Sufactant Sodium 3-nitrobenzenesulphonate with CAS 127-68-4
Product Overview
Sodium nitrobenzene sulfonate is a chemical whose molecular formula is C6H4O5NSNa, crystal, melting point 70 °C, soluble in water and ethanol, yellow uniform powder. This product is used as vat dye, anti-dye agent and orange protection agent for dyes, is an intermediate for dyes, and can be used as a ship's rust remover and electroplating nickel-removing agent. Production method: Using benzene as raw material, sulfonation with mixed acid to obtain benzene sulfonic acid, and nitrification with nitric acid to generate m-nitrobenzene sulfonic acid, and then neutralize calcium nitrobenzene sulfonate with lime milk, and replace with soda ash to obtain finished product. Sodium nitrobenzenesulfonate. The product is toxic and its toxicity is slightly less than that of m-nitrobenzene. Since this product is easily deliquescent when exposed to water, when the dust is inhaled, it is easy to hydrolyze with the physiological cycle to reduce the toxicity. Ventilation should be enhanced at the production site. Operators should wear masks, gloves and other protective equipment to prevent inhalation of dust.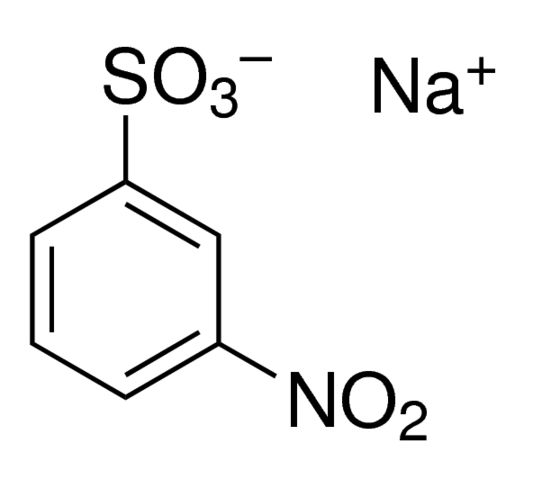 Physical Properties
CAS Number: 127-68-4
Molecular Formula: C6H4NNaO5S
Molecular Weight: 225.15
EINECS number: 204-857-3
Melting point 350 °C
Flash point 100 °C
Storage conditions Store below +30°C.
Solubility water: soluble50mg/mL, clear to slightly hazy, faintly yellow to yellow
Morphology Crystalline Powder
Color Light yellow
PH value 8 (50g/l, H2O, 23°C)
Water solubility 200 g/L (20 oC)
Sensitivity Hygroscopic
Application
Used as a catalyst, also used in organic synthesis, dye industry, etc.
Use This product is a mild oxidant, which can protect the shade when fabric printing or padding and steaming. In the scouring and mercerizing of fabrics, it is necessary to attach knife wire and stencil, which can counteract the effect of reducing substances and can also be used as dye synthesis. Oxidants.
Uses The product is used as a color-protecting agent for vat dyes, sulfur dyes, dye-reducing agents and dyes, marine rust remover and electroplating nickel-removing agent, and also an intermediate for dyes and vanillin.
Use It is a dye intermediate, used as a color-protecting agent for vat dyes, sulfur dyes, dyes and dyes, and can be used as a rust inhibitor and electroplating nickel-removal agent for ships.
Uses Sodium nitrobenzene sulphonate is used as a color-protective agent for vat dyes, sulfur dyes, dyes and dyes. Marine rust remover and electroplating nickel-removal agent are intermediates for dyes and vanillin.
Packing and Delivery
It is packed in plastic bag jacket woven bag, moistureproof, waterproof, fireproof and sunproof during storage and transportation. According to the provisions of toxic substances storage and transportation.
Other related items of our company:
1. Basic Organic Chemicals
2. Inorganic Chemicals
3. Pharmaceutical Intermediates
4. Daily Chemicals
5. Active Pharmaceutical Ingredients
Looking for ideal Sufactant Sodium 3-nitrobenzenesulphonate Manufacturer & supplier ? We have a wide selection at great prices to help you get creative. All the Sodium 3-nitrobenzenesulphonate with CAS 127-68-4 are quality guaranteed. We are China Origin Factory of Industrial Sodium 3-nitrobenzenesulphonate. If you have any question, please feel free to contact us.
Product Categories : Basic Organic Chemicals > Organic Acid